Custom Hunters Series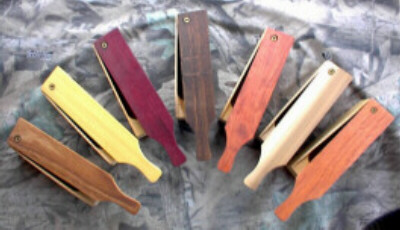 These are examples of the Custom Hunter Calls that are available. They are the "Cadillac" of hunting calls. Single side boxes hewn out of a solid block of different woods with several different types of exotic and domestic wood lids. The different types of wood combinations allow me to get the sound you want. They can go high, low, raspy, clear, etc., however you want it to sound. The best thing to do on these is to call me, we will play with them until we find the right sound for you. Now that is what you call custom turkey call making!
Price - $60.00 ea.
Here are some examples, you may click image to enlarge them.

bottom hewn out of a solid block of Mississippi Red Cedar, lid made from Appalachain Cherry

bottom hewn out of a solid block of Mississippi Red Cedar, top from Jatoba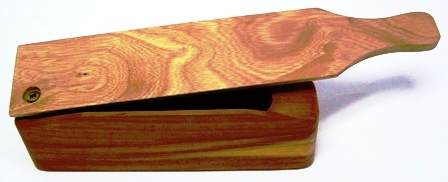 bottom hewn out of a solid block of Mississippi Red Cedar, top from Pecan
bottom hewn out of a solid block of Mississippi Red Cedar, top from Red Oak

bottom hewn out of a solid block of Mississippi Red Cedar, top cut from same block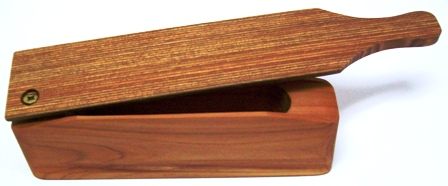 bottom hewn out of a solid block of Mississippi Red Cedar, top from Laminated Maple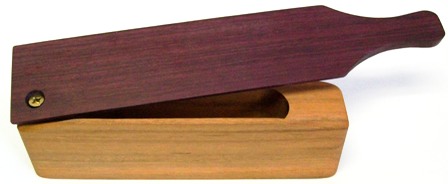 bottom hewn out of a solid block of Mississippi Wild Cherry, top made of Purpleheart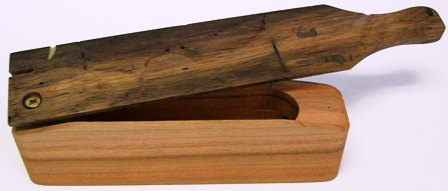 bottom hewn out of a solid block of Mississippi Wild Cherry, top made of Wormey Persimmon

bottom hewn out of a solid block of Mississippi Wild Cherry, top made of Andiroba

bottom hewn out of a solid block of Mahogany, top made of Lacewood

bottom hewn out of a solid block of Mahogany, top made of Bocote

bottom hewn out of a solid block of Mahogany, top made of hickory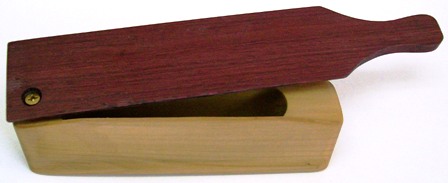 bottom hewn out of a solid block of Poplar, top made of Purpleheart

bottom hewn out of a solid block of Mahogany, top made of Zebrawood
OR
Call in your Online Orders, All major credit cards accepted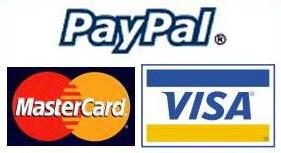 Shipping Charges:
Up to $50.00 Shipping is $6.00
$50.00 and above Shipping is $8.00
SATISFACTION GUARANTEED
DEALERS INQUIRIES WELCOME
MAILING ADDRESS
Paul Meek
728 Sandhill Road
Brandon, MS 39047
601-506-0829

For Questions & Comments Please Email Paul Meek