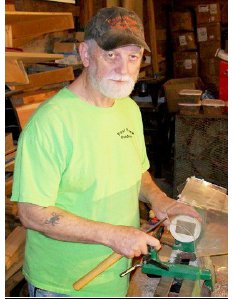 IN THE SHOP WITH PAUL MEEK
Working in the shop is a daily activity here at Paul Meek Outdoors. Always making calls from all kind of different woods. Most of the domestic woods we use are harvested be me or friends that bring stuff by or call and tell me they are cutting down so trees I might want. We gather it up and haul it off to the saw mill to get it cut down to where we can handle it. I have a lot of wood stored, some of it was blown down during Katrina.
Cutting a straight edge on the joiner. Got to have it square to start with or everthing will be out of whack. This is some saw mill cut sycamore that we took down on a lot in Homewood, MS where they were building a new water company building. Got alot of lumber out of those two big ole sycamore trees.
| | | |
| --- | --- | --- |
| | | |
| | | |
| | You night want to try this if you are cutting up wood on a table saw. | |
Some red cedar here that we havested ourselves here in Smith County, MS. Sawing this into box call size, I bring it to a certain dimenson here before taking it to the planner for final dimenson. Measuring these with calipers, as I am down to thousandths here. Notice the pieces of wood I use for push sticks instead of my hands or fingers. I been doing this for almost forty years, cut up a lot of push sticks but I still have all my fingers.
Red cedar finished at the table saw and laid out for the planner. Critical operation here, have to be planned to the exact dimension so I will be able to hold the side dimension after I hull them out. I will do that by hand on the belt sander. After this I will cut them into blocks the right length and take out the inside. Again measuring in thousandths with the calipers.
Blocks cut to size and the insides hewn out. Starting to look a turkey call now. Got a few more operations on the sanders to get the playing side to the right dimension and shape the ends. I will run some finger grooves, run in the sides and the final sanding for a nice finish and they will be ready for the lids. Lots of hand work at this stage.
Paul Meek
P.O. Box 689
Morton, MS 39117
601-732-2211
For Questions & Comments
Please Email Paul Meek
Or Phone 601-782-4898
All graphics contained within these pages have been created for Paul Meek Outdoors.
Please do not copy or link to them, with the exception of Paul Meek Outdoors Banners.
Thank you for your understanding.
This website was designed and is maintained by Designs by Sharon you can EMAIL Sharon about your graphic or website needs.